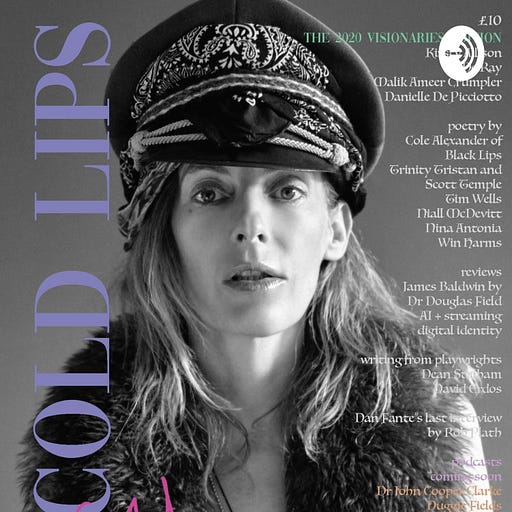 Oct 4, 2021 • 12M
Psychomachia - stolen property
An unscholarly translation, 3 posters, and 2 London shows
Cold Lips is the print-first magazine, with events internationally, founded by writer Kirsty Allison (she performs as Vagrant Lovers), and edits the arts on DJMag. "I've got drawers full of archive - and wanted to share them," she says about this series of conversations with all manner of iconoclasts. www.coldlips.co.uk www.kirstyallison.com TIME OUT: "Proving bookish folk are the coolest folk…the literary fashion zine" Dr John Cooper Clarke: "artistic & fabulous" Le Cool: "the scruffy literary mag"
Today - I've recorded my unscholarly translation of Prudentius's Psychomachia for you. Originally written in Latin in the fifth century, I was thrown out of Latin for making up stories about Orphelia in the Underworld, so it's hardly scholarly. But Praise Be to the miracle of Google Translate, a dictionary, and other translations, the tools I've used for translations of Baudelaire, Rimbaud and Verlaine. The result is likely as wild as the cartoons of the illuminated manuscript (c.1016) which attracted me to steal this "War of The Soul", or "Battle of Vice and Virtue" as the title for my novel, I needed something better than the various working titles since I began drafting back in 2005: Medicine, Old Street Eagles, De-railed, The Dublin Notes, The Icarus Project, So Fist, and Papershoes. Psychomachia felt like a heavenly intervention and the perfect allegory for a girl who wakes up all Jean Genet, in the 90s, unsure if she's murdered the arch patriarch of rock n roll.
💖
I also wanted to let you know, dear subscribers, who have pulled me through to our new Covid dawn, before I share it on social media, that there are a handful of signed Psychomachia posters up on my Bandcamp. They've been pasted up all over town, and I'm sure it's partly why I continue to receive amazing messages, daily, from people enjoying the books - thank you.
Paying subscribers, happy to send you a free poster for your support, and my lack of action here for a while…
And if you haven't made the break into FULL SUPPORT yet - please remember I'll send you signed first editions of the novel too.
💖
Also, we have shows in London on Wednesday and Thursday. Wednesday at the Hope and Anchor in Islington for Blang Records, and Thursday at the Powerhaus.
We'll be celebrating our debut physical release, on the Berlin Vol. 1 & 2 compilation with Das Wasteland. Also on Spotify.
"Patti-esque post punk collision" ⭐️⭐️⭐️⭐️ Mojo
💖
Each poster is £10, or £25 for three. They're designed by Stephen Barrett who has redesigned Ambit.
The typewritten translations appear in the end pages of my novel.
Psychomachia
The War of the Soul
Prudentius d.@413AD, Spain
Luxuria: flowershod and swaying from the wine cup. Every fragrance steps to Beauty and Pleasure, her attendants, her weapons, rose-petals and violets. 
The army of Virtue surrenders, before defeat.
Idolatry and the vices struggle against Faith and virtue. 
Spirituality
Religion
Kings of Barbarian bondage stand against our hero/heroine
Faith squeezes the dead grey eyes from the bloody soul
Her fans wear robes of flaming purple
Chastity's virgin armour.  Lust's shining torches. 
They fight: Chastity's eye is hit with burning pine knot, dipped in sulphur and tar.
She pierces Lust's neck, stinking fumes clot with black blood, foul breath from her throat pollutes the air.
The hammered sword stained red, a defiled lustre of filthy Lust plunging into Tarterus.  
Patience, the long suffering soul took over from Chastity when she retired, tranquil.
Wrath's black mouth foams. Patience's eyes don't flicker.
Wrath's spears of words attack from beneath the shaggy plumes of her helmeted head.  A frenzy made real till nothing remains.
Wrath dies in her own fury, after throwing all her spears.
No virtue lives without Patience, and she passes through the ranks with Good Job,  Hope and Humility about to challenge pompous Pride who rides in upon a lioness pelt on a high spirited horse.  Pride has big hair, fine linen cape - and rises mad to Lowliness and her motley crew of waifs and strays, penniless upstarts against Pride's fame.
Lowliness's cheap Spirit, surrounded by a band of maidens, among the ever-needy Justice, impoverished Honesty and parched and dry Sobriety, fasting their pasty faces. Modest Purity and her bloodless cheeks. Simplicity exposed to injury. All to be trampled feeble.  Deceit, inventor of fraud, builds a trap for Lowliness, the meek Queen, which Pride falls into, and it is her true companion, Hope who rescues her, with Humility, demure and self-composed watching as Lowliness drags the sword of vengeance from Hope, and bends Pride's neck back, and cuts it.
Luxuria, trampling flowers underfoot, blows trumpets to Indulgence belching perfume and warm in puddles of wine. Reputation means nothing for it is long lost. She lives for pleasure and weeps as everyone surrenders to her party of banqueting, flowing tankards spilling on silks, belching up the feast of the night, dawn's trumpet is dragged by Wantoness and Drunkeness - throwing balsam violets at enemy lines.  Dazed by the chariot of radiant jewels - the axle of gold, abandon this den of embers, under the flag of Sobriety.  Sobriety leads the Falernian wine-covered ladies, and hurls a rock towards the foul Luxury, fought with the honeyed staff of Chance, who found the stone, smashing the red lips of Luxury, so her teeth loosen in her bloody mouth, broken bones melt, lacerations consumed, she vomits.
Sobriety: "Drink up! Enjoy your morsels. Your stomach can taste your body."
Indulgence dies.
Her drinking friends throw their cymbals and scatter. Lust also flees, pale. Vanity, stripped naked, leaves, her robes in a pile with Allurement's garlands. Strife and Pleasure depart in trails of hairpins, ribbons, buckles and veils. Sobriety and Co trample on the sins, into the gutter.
Greed then folds her robes and picks through the dirt for gold. She strips her pals corpses of their wealth.: Care, Hunger, Fear, Anxiety, Perjury, Corruption, Dread, Fraud, Fabrication, Sleeplessness, and Sordidness.  Greed grows strong, her infamous pestilence is followed by Pride of Possession under-sated, and Gluttony who robs her own children. In the wake of Greed's wrath, all living things turn to shit-fired furnaces, bleeding with gold. Vessels inlaid with silver are held worthless and seized by Greed, only Reason can save.
Greed puts her weapons down in the name of Avarice. In the form of austerity, she becomes the virtue of Thrift. A zealous frugality. Bellona, goddess of War steals her look, but hides plundering the ivory and miserly hoarding of stolen goods beneath this commendable name. 
Gullible men fall to the monster, shackling themselves to her fiend. Good Work comes to the aid of the faultline in the battlefield. She had been heavy with money and riches which she scatters among the poor, despite the moneybags being eaten by worms.  Looking to Faith in Heaven with the accrued interest of her toil, Greed strikes her with lightning. Numb, her neck is iron but she retaliates, turning on Greed, no wound - the body is strangled in the agony of death. Nuggets of gold, gems, decaying cash leak to the poor. Good Work claims the desire for gain is gone. With ascetic chants, she says to leave not thinking of tomorrow because daily bread will come with sunlight. Birds, fouls, sparrows will not perish.
Their troubles end.
Suffering, Fear, Violence, Crime and Fraud lay their bugles down and Thunder smiles.
Concord reigned after the chaos, a miraculous highway opened up for all, a storm troubled peace. Discord joined Concord, imitating a friend, yet she carries a knife and a whip.  Soon caught, she announces: "Belial is my teacher, and sees God, and mocks him."
Faith takes a spear to her tongue, pinning her to the ground of bloodshed. Discord's flesh is ripped and torn to the ground, to gutters, sewers, the mouths of dogs and the animal chain to earth and air and fish to fire.
Faith and Concord sit en high, watching the settling skirmish of their work over Vice. 
The entire camo camp awaits with tents open, no niche of body closed. To the remaining army, with equal command, Concord speaks first: "What will Faith offer now? Victors to the savages! Your home must be united or we will be divided." 
Virtues produce peace. 
Peace is the end of labour. 
The temple is our Kingdom, begins the queen, instructing wolves in soft white lambskin to guard Concord against the hurt Faith defended.  Her golden measuring rod rules the twelve names of a new senate, inscribed at the gates of the temple with a single stone entry.  Three paths lead to a fourfold force cold to the north of pious devotions.
Precious stones embed the same number of walls. The temple pours with her love and coloured light. Peridot, chrysolites with gold veins, set between a sapphire and beryl light disco. Agate flashing with its amethyst neighbour, crimson striking the sardonyx, jasper, topaz, carnelian arcing. Scattered fresh cut grass emerald Chrysoprase as bright as stars. The inner temple had several crystal columns. A crane weighted heavy with a crown, tossing it to the side, while the stone centre with a shell holds a pearl. The pearl the prize pure base of Faith, paid for with a thousand talents. Wisdom lies, enshrouded. A sceptre of live wood. And the madness of solstice wrote the writer, that wander in ink. Lo. 
The wander years.
The stem never wilts. It sprouts roses and willows. Red as blood on lillies.
Here we worship.
Sin falls.
The throes of rebellion for flesh.
This is what represses the spirit. Yes, the prison of our heart, its bondage rejecting the filth of flesh.
Light and Dark, that is what builds our temple. The soul, an ornament to delight Wisdom, who reigns glorious, now upright in the threads of this trial in her throne.
💖
And don't forget - Thursday - we support these legends:
Love x
(and also, Ambit are offering a subscription for £30 till midnight, with Ambit Pop 243 (the one guest edited by Lias Saoudi of Fat White Family, and 244, and the next year of quarterlies…)